Congratulation to SHS varsity girls soccer coach Rick Babyak! The 1977 SHS graduate will be inducted into the L.V. Soccer Hall of Fame on 1/29/23. Babyak is being recognized for his lifelong interest & contributions to the development of soccer in the L.V. ⚽️ 👏 #yoursalisbury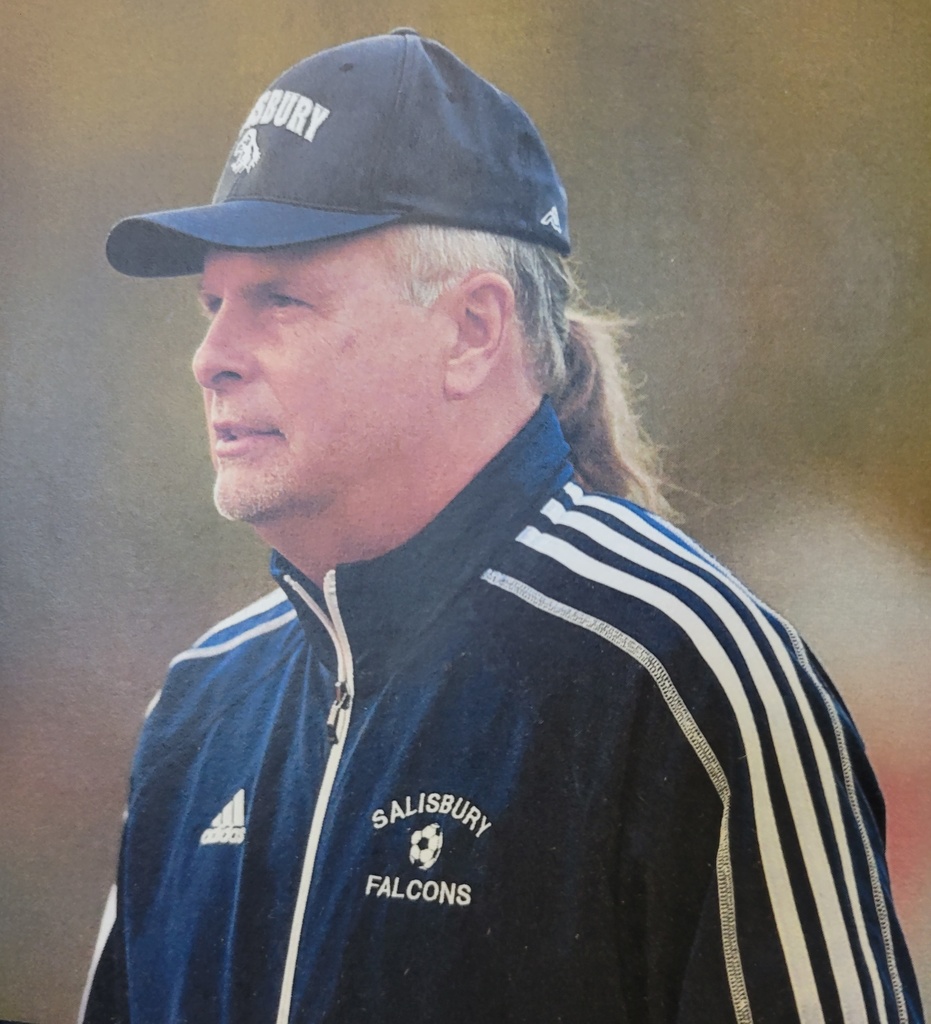 Congratulations Salisbury wrestling seniors! Shout out to the Falcons for beating So. Lehigh 35-30! 👏🤼🤼‍♀️ #yoursalisbury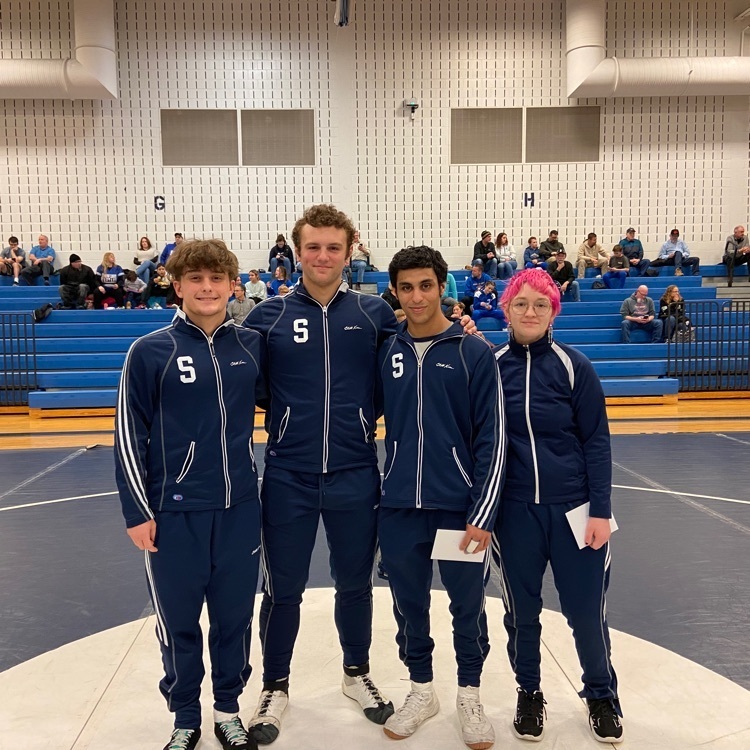 Congrats to our JH wrestlers who competed at the Roughrider JH Tourney on Monday. Aydan Painton won gold, Grayson Gnall silver, Michael Segata and Colton Tone earned bronze medals & Jarrod Blunt, Jacob Spinner & Daniel Hontz placed 4th. The team placed 5th. #yoursalisbury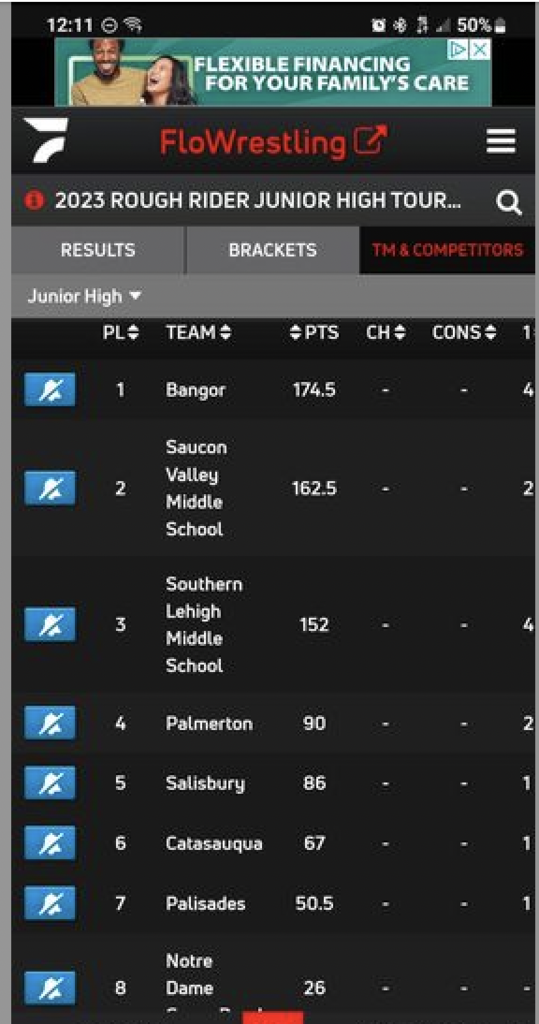 SYA Softball Spring Registration Information Check it out Falcons! #yoursalisbury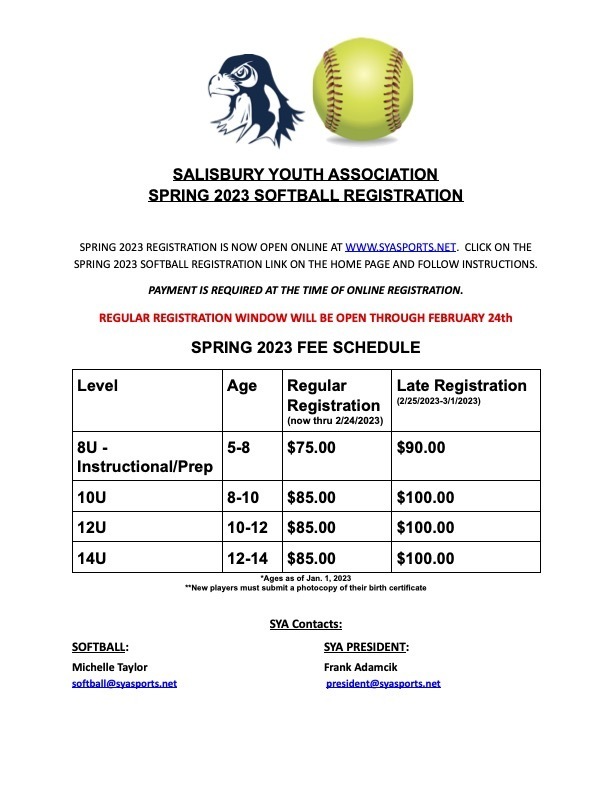 GUESS THAT EDUCATOR! It's 2004, and this smiling 9th grader played FH, BKB, and SB for SMS. When she wasn't playing sports, you could find her talking to teachers like Mr. Tobias in the hallways - she actually had him for science when she was in 6th grade! Can you guess that educator? Good luck! #yoursalisbury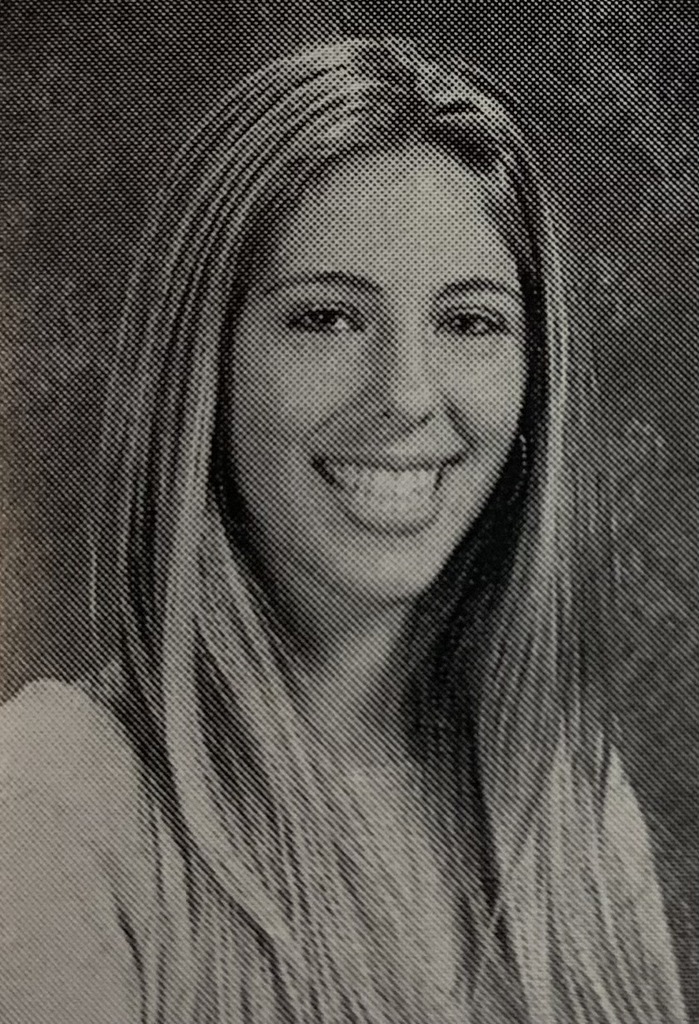 Your Salisbury MS Cheerleading Character Athletes of the Week! Congratulations! 👏📣 Disciplined - Rhya Jones Endurance - Julianna Rach Real Love - Ayla Weiss @CrossTrainingA #yoursalisbury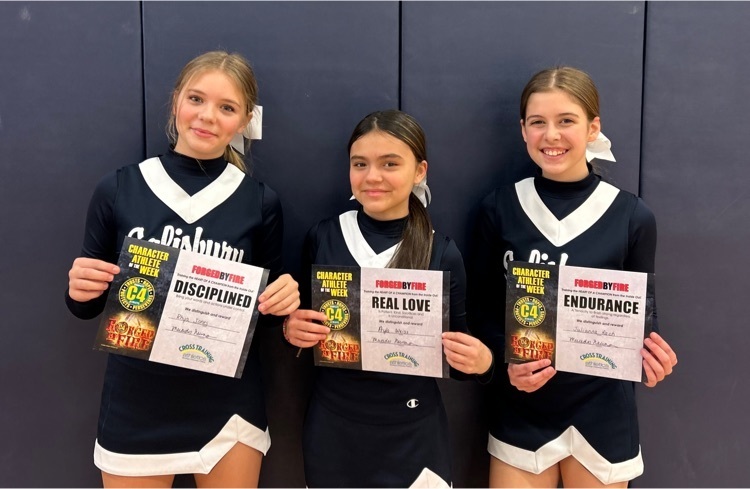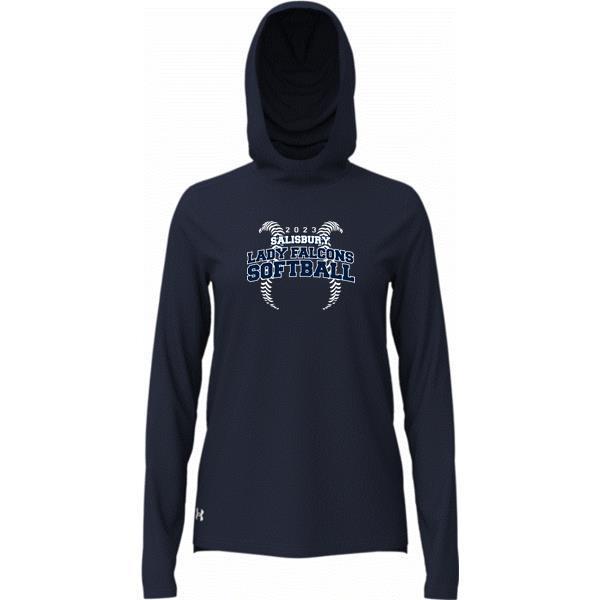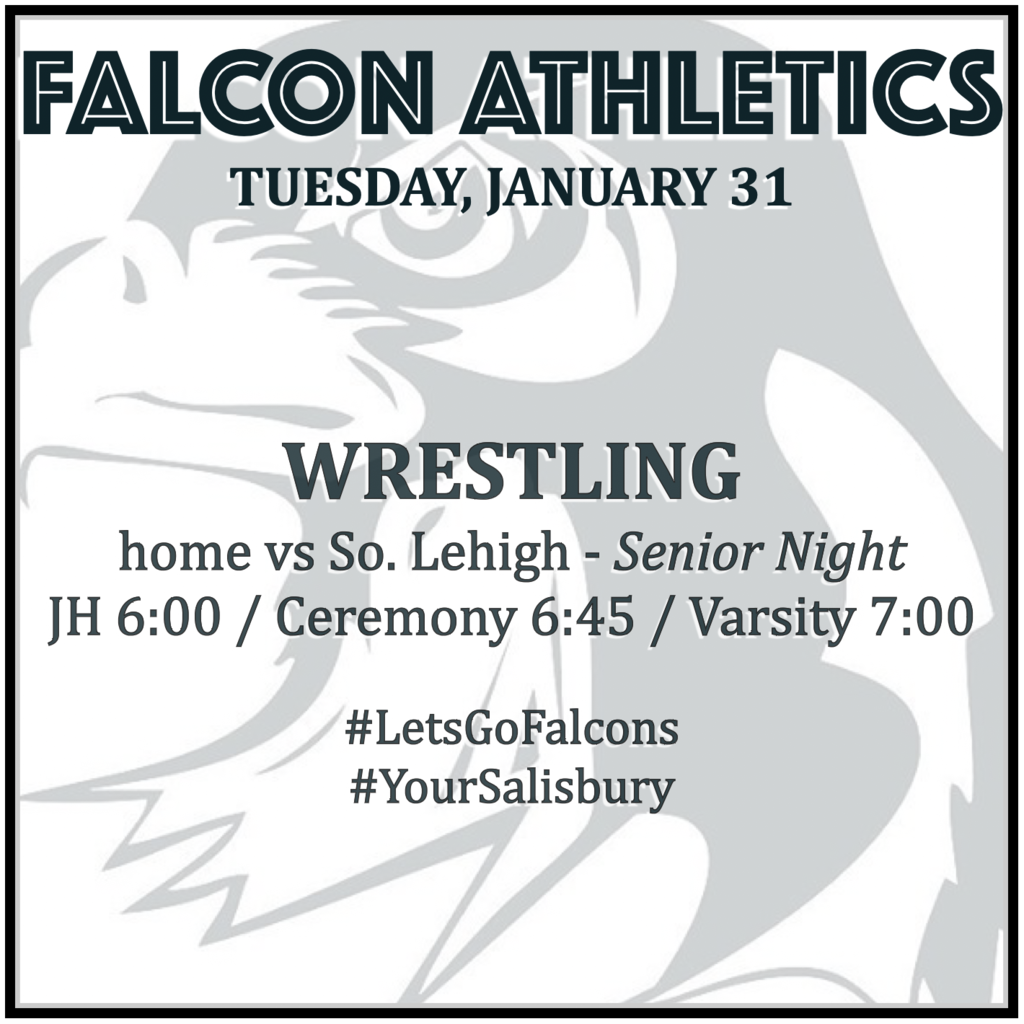 Congratulations to Salisbury swimming Character Athletes of the Week! Well done Falcons! Allison Beckage - Endurance Macy Newman - Grateful Phoebe Ballek - Disciplined 🏊‍♀️ 👏 #yoursalisbury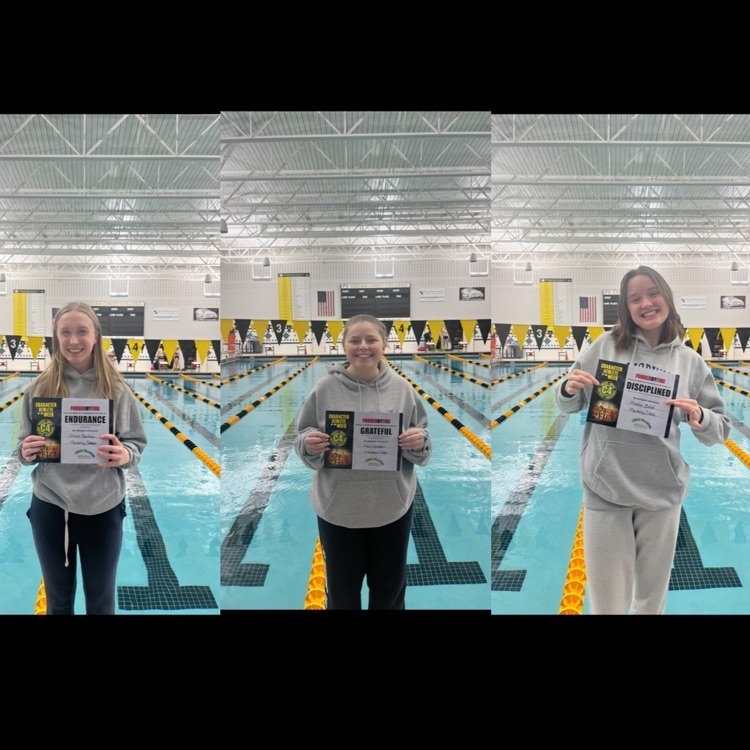 SHS senior wrestlers John Samy, Mitch Miller (ACCHS student) and Toby Linn will be recognized Tues., 1/31 at SHS when the Falcons face So. Lehigh. JH takes place at 6 p.m. Vars. at 7. Seniors will be announced after the JH match. 👏🤼 #yoursalisbury @ACCHS_Athletics @ACCHSVikings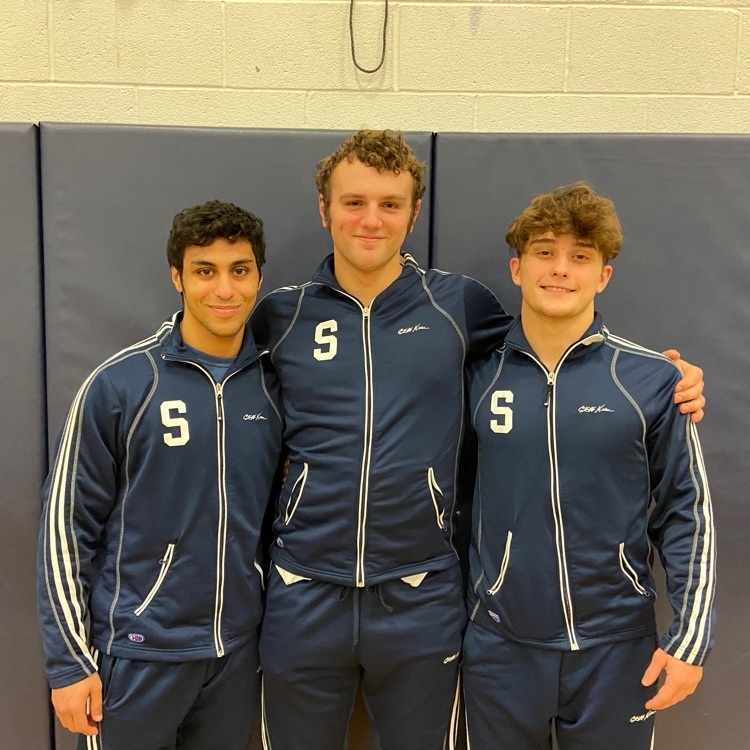 SHS parents & students: The School Counseling Office has posted Q2 Report Cards to the Sapphire Community Portal. To review your/your student's Q2 grades, please check your community portal account.

Congrats to the following SHS students who were selected as LCTI Students of the Month for Dec.: Teacher Ed.: Sam Conrad Health & Med. Sciences: Riley Knecht Auto Specialization Tech.: Alaina Marcks Criminal Justice: Abigail Seeley Office Systems Tech.: Michael Wygand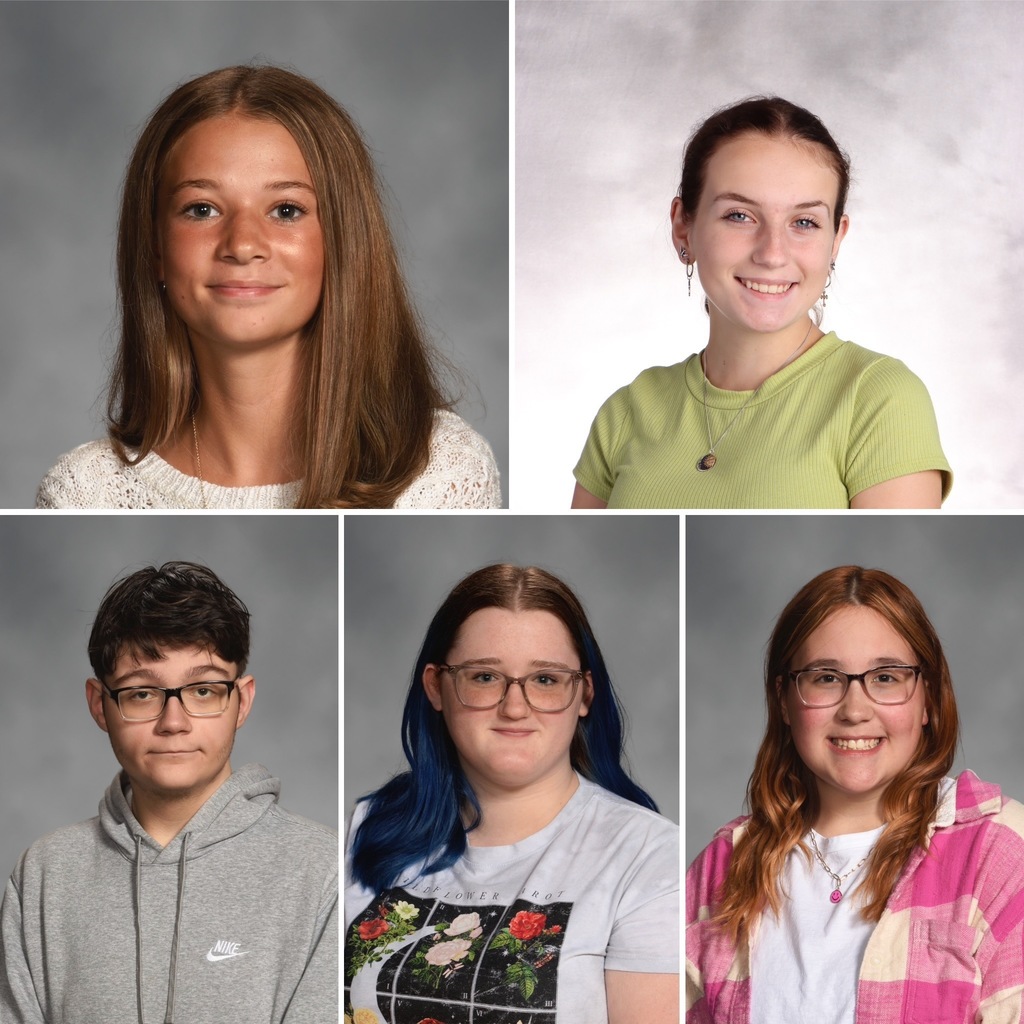 Calling all interested ACCHS Vikettes and SHS Lady Falcons - ACCHS Girls Lacrosse wants YOU! Join our team at open gym sessions before the season to try this fun, fast paced sport! All are welcome to attend - no experience necessary! *Great crossover sport for Basketball, Soccer, and Field Hockey players! *Sticks and Eye Protection available for beginners - just bring a personal fitted mouthguard. Every Thursday/ Friday in February 4:00pm - 5:30pm Location: St. Luke's Sports Rink @ 3323 7th St. Whitehall PA 18052 Preseason begins Monday, March 6, 2023 The ACCHS girls lacrosse coach is Colleen Corcoran and her email is
cocorcoran5@gmail.com
. Please contact coach Corcoran with questions. @ACCHSVikings @ACCHS_Athletics #yoursalisbury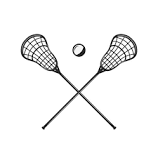 GUESS THAT SALISBURY EDUCATOR! This blonde-haired beauty is a graduate of the Class of 1992. She was a scholar and a twirler for Salisbury High School. You'll even find her husband among the many graduating seniors. Can you guess that educator? Good luck! #yoursalisbury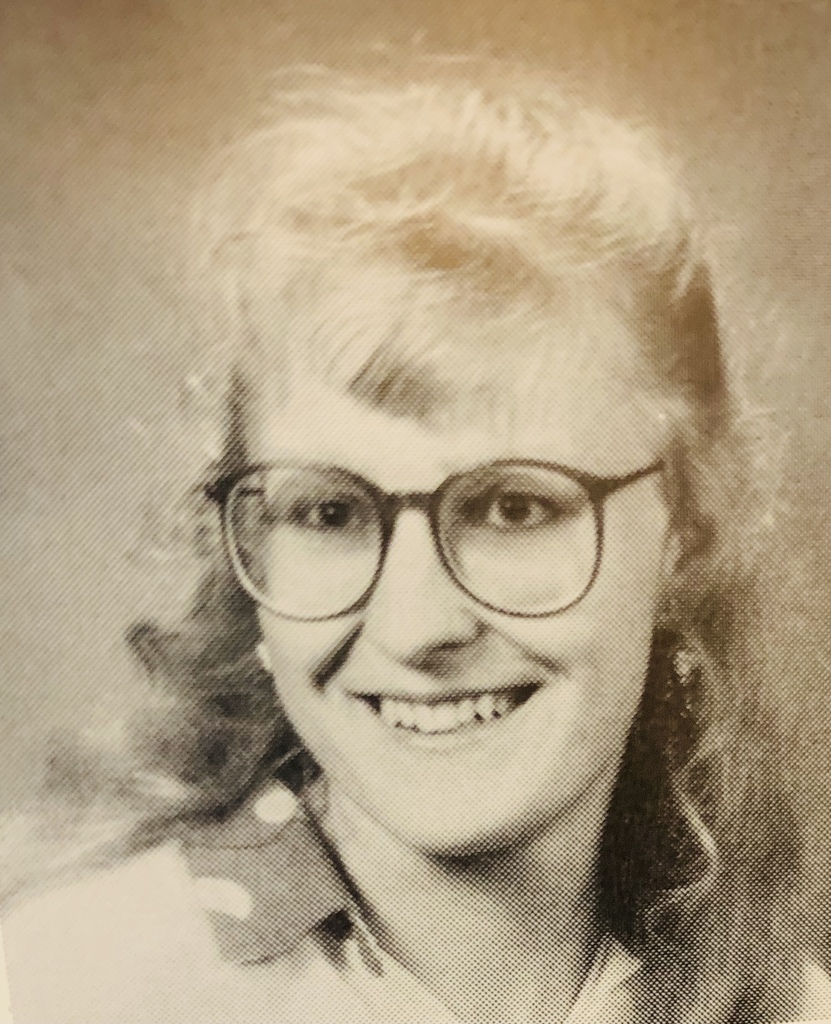 FALCON ATHLETICS Monday, January 30 #YourSalisbury #LetsGoFalcons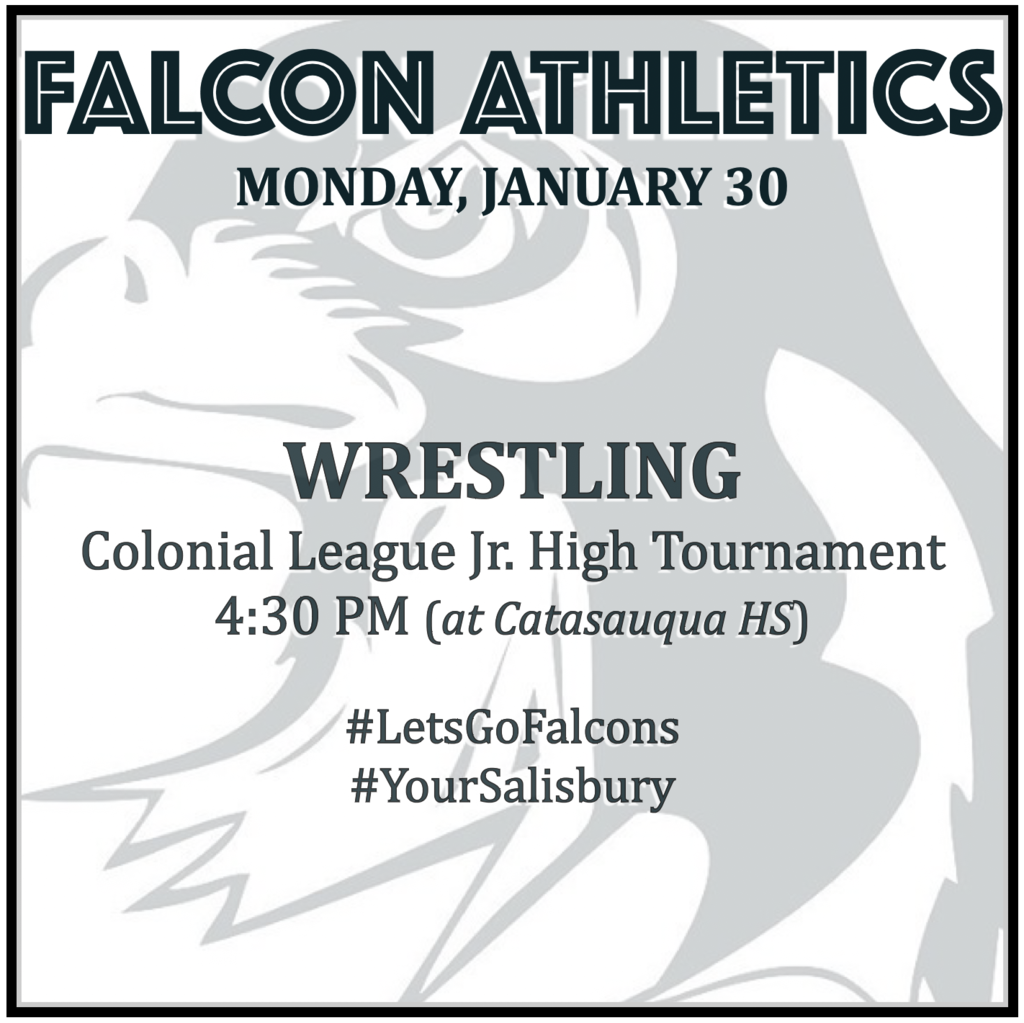 Salisbury results from the Col. League Wrestling Championships. The Falcons finish in 3rd place w/ several placewinners! Mitch Miller 1st, John Samy, Toby Linn, Jakub Gloc 3rd, Mason Holva 5th and Edwin Serrano, Nate Tone, Sam Krauss 6th. Way to go Falcons! 👏 🤼 #yoursalisbury

More great pictures from tonight's Lehigh Valley Soccer Scholar Athlete dinner. Congratulations to Hannah Kamp, Jackson Kramp, their families and coaches! Congrats also to coach Babyak for his LV Soccer Hall of Fame induction! So proud! ⚽️👏 #yoursalisbury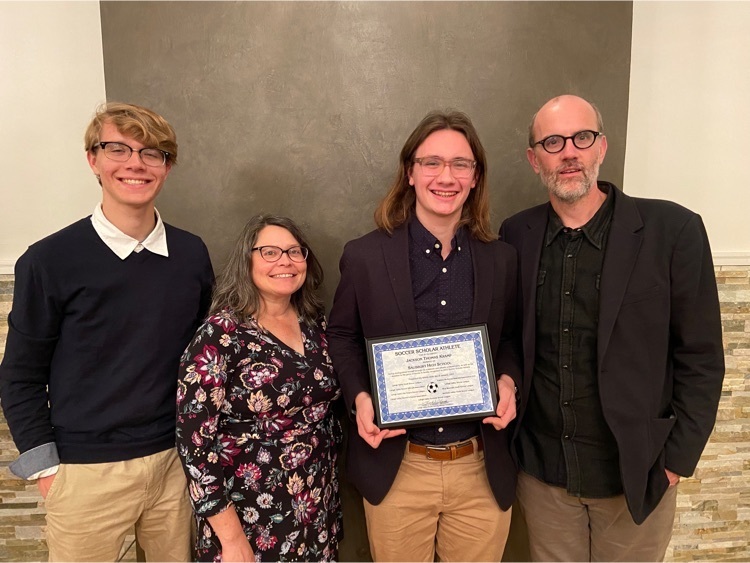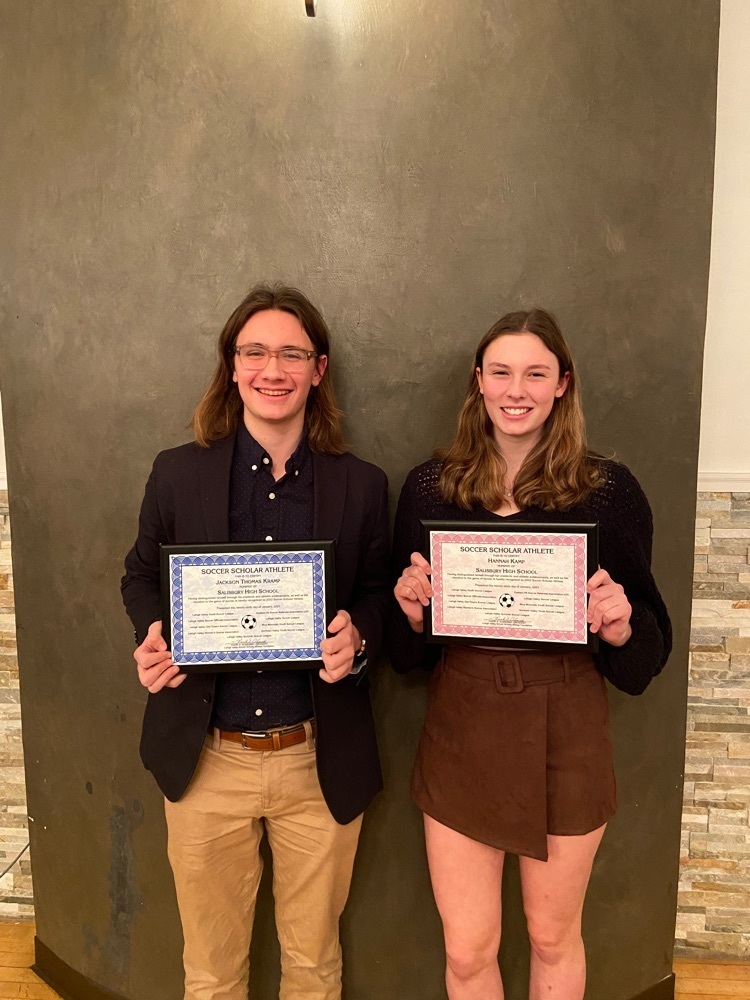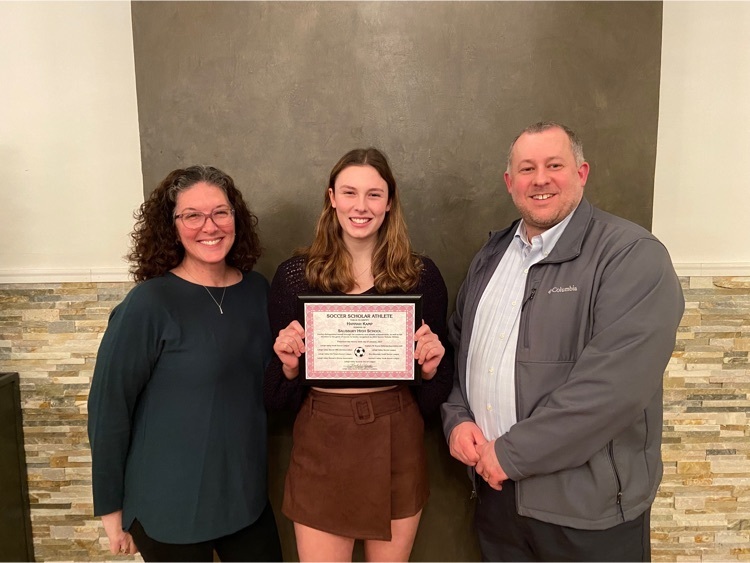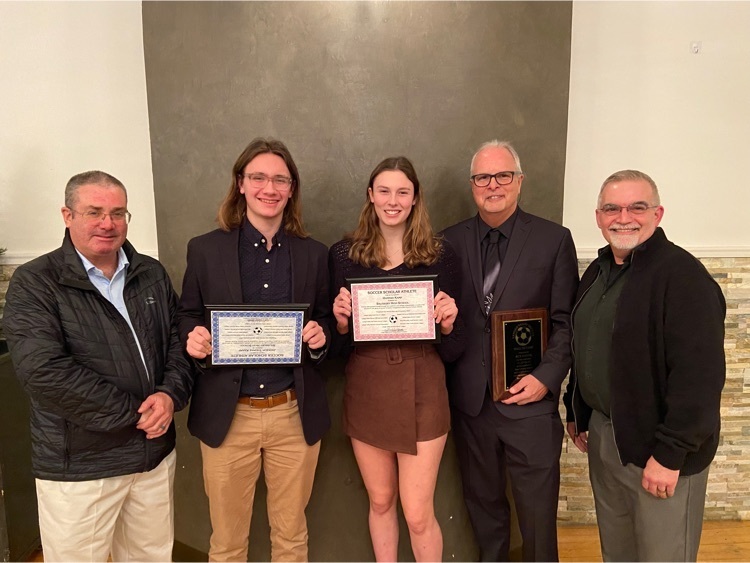 Congratulations to SHS girls soccer coach Rick Babyak for being inducted into the L.V. Soccer Hall of Fame. Congrats also to SHS soccer scholar athletes Jackson Kramp & Hannah Kamp. BS coach Mark Allinson & asst. girls coach Victor DeOliveira attended the banquet. #yoursalisbury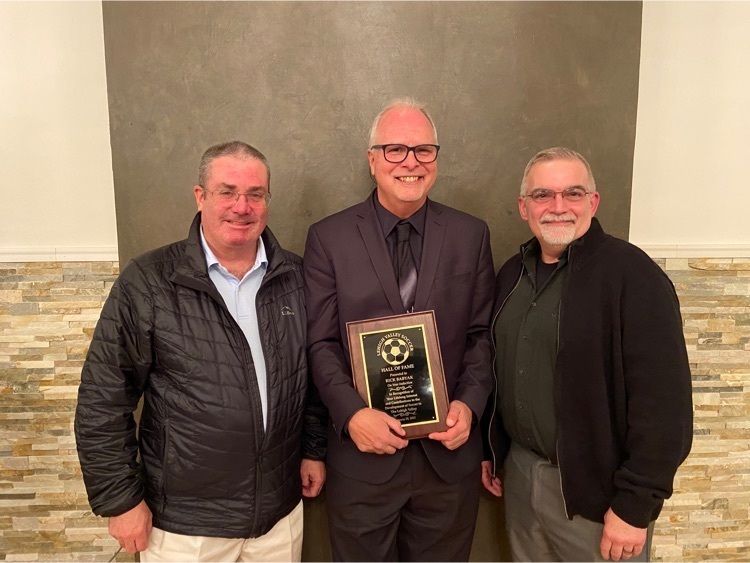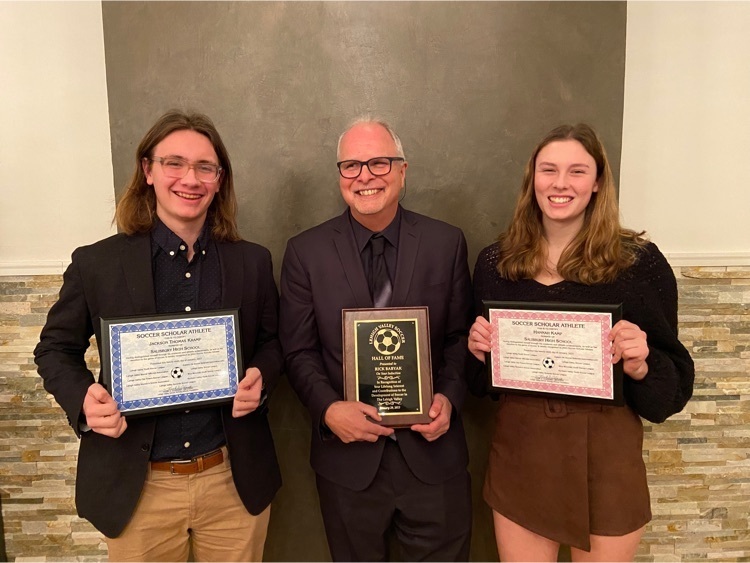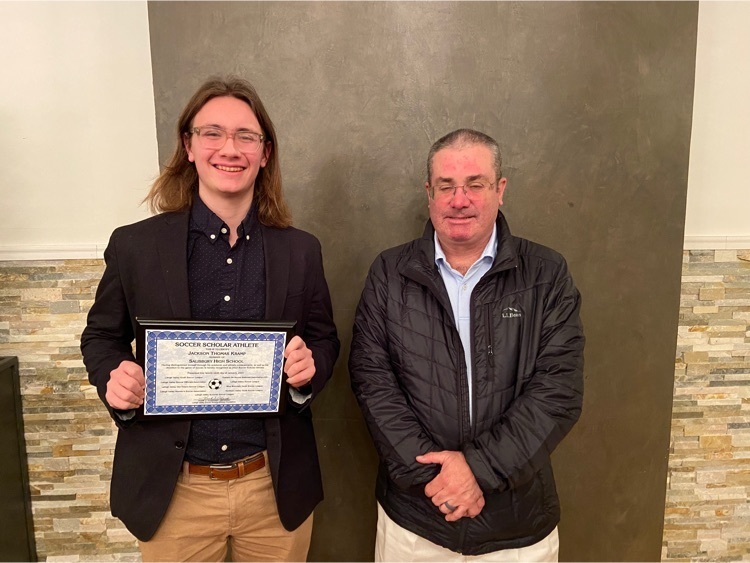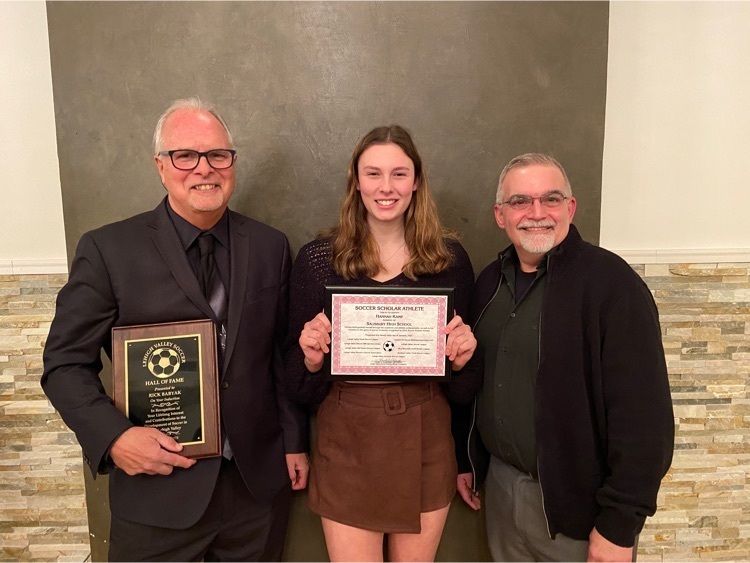 1/29 Colonial League Wrestling Championship! 1:00pm at Catasauqua HS. Reminder that tickets are online only at colonialleague.org/online-tickets/ #yoursalisbury

The following SHS students were named LCTI Students of the Month for November: Web Design: Madyson Faustner Advertising /Commercial Art: Emma Martinez Pre-Engineering & Engineering Tech: Pablo Reyes Carpentry: Ayden Robinson Congratulations, Falcons!