IMPORTANT RESOURCES AND DOCUMENTS
Grades K-8

VAST Elementary & Middle School (K-8) Handbook

Grades 9-12
Contact Information:
Mr. Ryan Yurchick, Principal of 9-12 VAST
610-797-4107 (ext. 2503)

Mr. Rob Sawicki, Principal of 5-8 VAST
610-791-0830 (ext. 3503)

Mr. Brian Muschlitz, Principal of K-4 VAST
610-791-2800 (ext. 4504)

Mr. Michael Anderson, Counselor for 9-12 VAST
610-797-4107 (ext. 2532)

Mrs. Allison Moyer, Counselor for 9-12 VAST
610-797-4107 (ext. 2533)

Mrs. Alexis Bove, Counselor for K-8 VAST
610-791-2800 (ext. 4555)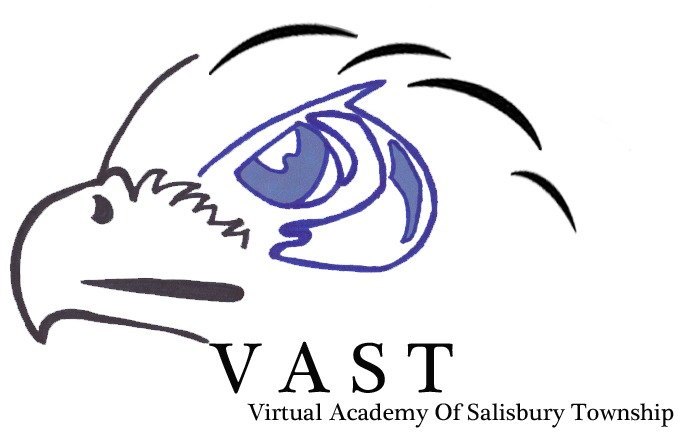 "Where curiosity begins and learning never ends."
The Virtual Academy of Salisbury Township (VAST) is a fully supported online educational alternative for students residing in the district in grades Kindergarten to 12th grade. VAST students are enrolled as Salisbury students and therefore have access to its schools and resources. VAST students will be able to participate in all the activities, extracurricular programs, and athletics that STSD offers to traditional Salisbury students, as compared to students enrolled in non-district supported cyber schools. VAST students will be provided with laptops and technology support from within the district, a school counselor to provide guidance academically and emotionally, and the ability to use any other school resources, including school libraries and guidance services. The program allows students to grow academically, with support services provided by the district, and to grow socially while learning from their home environment.
Why enroll in VAST?
The oversight of the VAST program is provided by district personnel. This maintains a personal connection between the home and school. District guidance counselors provide consultation support; supervision is provided by district administrators.
High quality customized online learning environment

Laptop and technical support provided by the district

Eligible for High School Salisbury Township School District diploma

Eligible for National Honor Society

Service Coordination for IEP, GIEP, 504

After-school athletics and activities

Access to district social worker and guidance staff

Full library access

Field trips and social activities

Salisbury Township School District email address

Smooth transition between online and brick and mortar school

Smooth transition between online and brick and mortar school