EDIT MAIN
On Wednesday February 19th at 9:30am, Western Salisbury Elementary School will hold registration for students enrolling in Kindergarten for the 2020-2021 school year. Kindergarten is a full day program. Registration will be held at the school in the gymnasium.
The registration process will take approximately 1-1 1/2 hours and children are not required to attend. There will be a presentation by the principal, meet & greet with the school nurse, CST & Reading specialist, Guidance counselor, WSE PTA, Lehigh Valley Childcare and a tour of the building.
Eligible candidates must be 5 years of age before September 1, 2020. Please bring the following information with you for enrollment:
Birth certificate
Child's current immunizations from doctor
2 proofs of Salisbury residency(please bring 2 items from the list below)
- Current PA Driver's licence OR Vehicle Registration
- Current Utility Bill ( water, sewage, heat, oil or electricity)
- Current bank statement
- Current W2 or W4
- Current Lease or sales contract for permanent residence
- Current Federal, state or local tax document showing address (from taxing agency - not blank form completed by resident)
- Current pay stub with address of employee and employer
- Current Medical, state or federal benefit documents showing address (medical insurance, social security, unemployment, etc.)
Please bring a Salisbury Township Moving Permit if you have just moved into the district.
Click the link or image below to sign up for a screening time.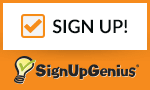 https://www.signupgenius.com/go/10c0b4aabac2daafe3-2020
If you have any questions, please contact our school Administrative Assistant, Mrs. Danielle Rothrock at 610-797-1688 ext: 5500 or drothrock@salisburysd.org