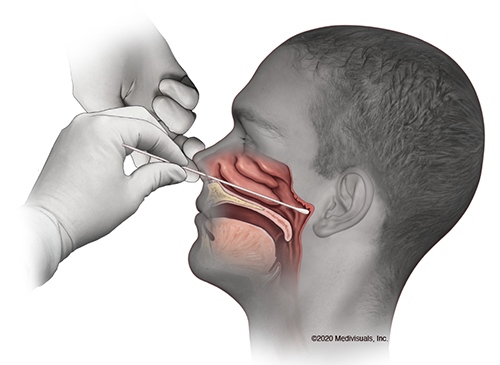 Coronavirus Testing
Christine Tripp
Thursday, May 21, 2020
Coronavirus Testing
There are 2 different types of COVID 19 tests available. One is for someone currently experiencing symptoms of the virus and one is for someone who had the virus or thinks they may have had the virus.
1. Active Infection Test - diagnostic test
The test is done by a nasopharyngeal swab for 15 seconds and rotating the swab. It is then sent to a lab. It is a test to see if you actively have the virus. Most places will only do the test if you are presenting with one or more symptoms of the virus, such as a fever, chills, cough, muscle pains, sore throat, or a new loss of taste or smell.
Depending on where the swab is performed determines how quickly you may get a result, ranging from a few hours to a few days. This test is important so you know if you need to quarantine yourself or if you may have exposed anyone else to the virus
2. Immune Response Test - serology test
This is a blood test, usually done by a finger prick, that shows if a person has developed antibodies after exposure to the virus that causes COVID 19. An antibody is something your body makes when it is fighting an infection.
This test is for someone who thinks they may have had the virus, but has not experienced any symptoms in the last 10 days or maybe never had any symptoms at all. This test is useful to test for past infection. People with antibodies to COVID 19 may be able to donate plasma to help treat COVID 19 patients who are critically ill.
Keep in mind that current antibody tests can't tell you if you're immune to COVID-19. That's because we don't know how long these antibodies might protect you against the coronavirus. And these tests shouldn't be used to diagnose the virus.
Please call your healthcare provider or local hospital if you are experiencing COVID 19 symptoms or if you are interested in getting either type of testing done.
Swab tests are being done at various locations such as hospital stand alone centers, urgent care offices, and select Rite Aid pharmacies. Most testing sites require an appointment and patients must meet certain criteria. Serology testing at labs can be obtained with a prescription, however some labs will perform the test without a physician's order. For more information about testing in Lehigh County, please go to Lehigh County COVID-19 Response
Source: https://www.webmd.com/lung/antibody-testing-covid-19#1