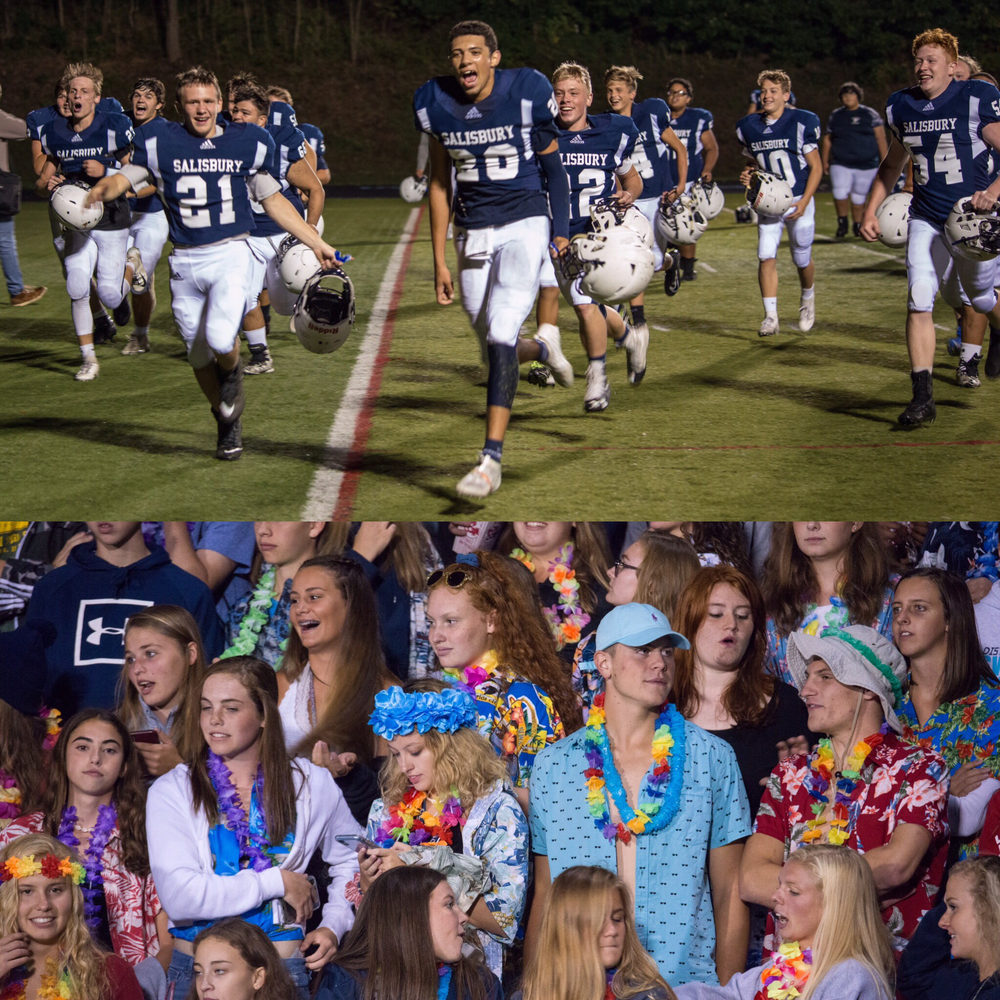 A Friday Night To Remember! 🏈
Monica Deeb
Sunday, September 08, 2019
What. A. Game. That was the prevailing reaction after the Salisbury varsity football team beat Wilson 27-24 in overtime Friday night at SHS.
The game featured just about everything, and both teams played so hard. If you are a Falcon football fan, you left with a smile after Quintin Stephens hit Chad Parton for the game winner in overtime.
Shout out to the players! You guys battled all night!
The Salisbury students section, sporting the colorful Hawaiian theme, brought big-time noise and spirit! The band and cheerleaders were awesome! Thank you! 🌺
I also want to salute the coaches, team personnel and the athletic training staff/team doctor. You are so dedicated and caring and Salisbury is lucky to have you.
Not to be forgotten, well done to the game officials. Folks, officiating is a thankless job and it is not easy. If we don't have officials (or coaches and players), we won't have games. More officials are leaving the profession, and coaching for that matter, than are joining the ranks. It's a major concern.
In 2020, many PIAA officials need to get new clearances that total around $60.00. A number have officials have already told official assignors they are stepping away. They are tired of the negativity from fans and they don't want to invest the time and money to get new clearances.
One sport assignor has asked that coaches take it easy on the officials. The assignor is being proactive and doesn't want the new officials to pack it in after a season.
Nobody wants to cancel games because there are not enough officials. Often, assignors reach out to athletic directors to let them know games may not be rescheduled to certain days due to a lack of officials.
So please cheer on your teams, coaches and game officials! Be supportive. Don't criticize. Everyone is trying their best!
Encourage students to join a sport and/or an extracurricular activity. It's fun and rewarding!
Be positive! It makes a huge difference!
Everyone makes mistakes so remember that when you attend sporting events.
And consider becoming an official! We need you. If you would like more information on how to become a PIAA official, please visit https://www.piaa.org/officials...
We hope to see you at a game/match/race soon, and we thank you for your support!
Thanks also to Hub Willson for the pictures!
Go Falcons! 🏈🏑⛳️⚽️🎾🏃‍♀️🏃📣