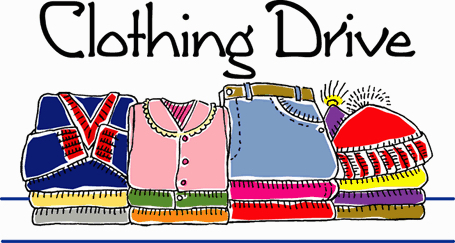 9/14 Salisbury Field Hockey Clothing Drive
Monica Deeb
Saturday, September 07, 2019
Sept. 14 Salisbury Field Hockey

Clothing

Drive

and More @ SHS
**** RAIN OR SHINE. IF RAINING, PLEASE BRING ITEMS TO THE SHS OLD GYM ENTRANCE (Door 2) WHEN YOU ARRIVE AT SHS ****
Salisbury Field Hockey is conducting a 1-day clothing and more donation drive on Saturday, Sept. 14 @ Salisbury HIGH School.
Please drop off bagged or boxed items at the SHS old gym entrance (door 2) on Sept. 14 from 10-1 p.m.
Please do not be late. The collection truck will arrive between 1 and 2 p.m. on Sept. 14.
See below for what the group will accept and NOT accept.
THEY WILL ACCEPT!
1 - Clothing and Shoes - USABLE AND WEARABLE CLOTHING FOR ALL SEASONS AND ALL SIZES! MEN'S, LADIES', AND KIDS' CLOTHING SHOES
2 – Accessories, which include the following:
POCKETBOOKS
BELTS
BABY ACCESSORIES
BACKPACKS
HATS
SCARVES
BRIEFCASES
GLOVES
TIES
HANDBAGS
SHOES MUST BE BAGGED AND KEPT SEPARATE FROM OTHER ITEMS.
3 – Household Items including:
BLANKETS
TABLE CLOTHS
BED SHEETS
DRAPERY
CURTAINS
PILLOWS
TOWELS
SMALL RUGS
QUILTS
COMFORTERS
4 – Small Toys (less than 2 feet) and they must be Soft Toys:
STUFFED ANIMALS
5 - OTHER
SCOOTERS
CAR SEATS ONLY TOGETHER WITH A BASE
STROLLERS
OUTDOOR BICYCLES OF ANY SIZE
5 - Things they do NOT collect:
VCR TAPES, CDs, BOOKS, BOX TVS/ MONITORS, OVERSIZED PLAY SETS OR OUTDOOR PLAY SETS
WORKOUT/EXERCISE EQUIPMENT, APPLIANCES, FURNITURE, LAMPS, HOUSE DECOR, BOARD GAMES, PUZZLES, ELECTRONICS, GLASSWARE, POTS & PANS, RUGS, BABY GEAR, HARD TOYS.
CONSUMER PRODUCT SAFETY COMMISSION DOES NOT ALLOW RESALE OF THE FOLLOWING: CRIBS, HAIR DRYERS, MATTRESSES, PACK & PLAYS, BABY WALKERS, BABY BATH SEATS, ANY TOYS WITH LEAD.
Check out the following links for more information. Thank you!
http://www.clothingdrive.net/?act=menu&m=9
http://www.clothingdrive.net/?act=menu&m=6
#yoursalisbury